Sepak Shoes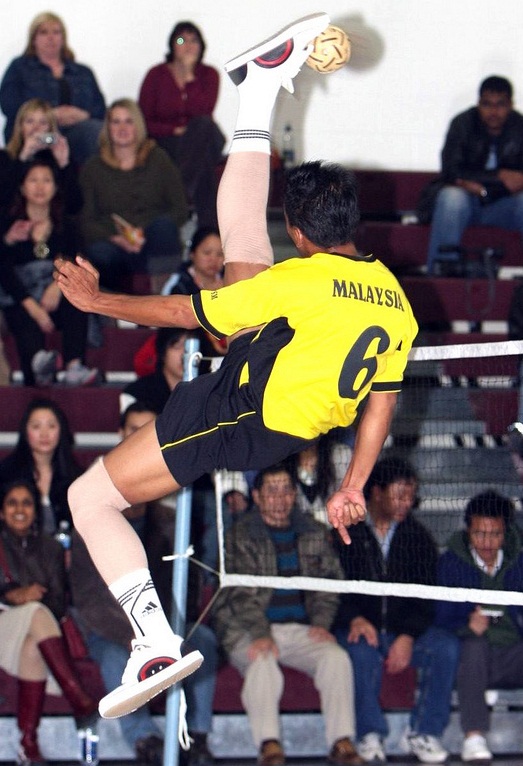 (available online to Canada/USA/Europe only at this time)
After not finding the perfect shoe for Sepak Takraw, NETPRO founder Richard (Rick) Engel spent almost 3 years of research, time and money to create NP KICKERS. What he created was a single shoe that provides ALL the features required to make a shoe an "IDEAL" Sepak Takraw shoe, but features all of which could not previously be found in one shoe.
NP KICKERS PROVIDE:
COMFORT and high impact INSOLE CUSHIONING SUPPORT for jumping and landing;
FLEXABLE outsole to allow for maximum foot movement when kicking/spiking;
PROTECTIVE REINFORCEMENT at all he impact/kicking points of the shoe;
STRAIGHT EDGES at the instep & outstep sides for maximum kicking control;
NON-SLIP INDOOR/OUTDOOR GRIP, ideal for both hard floor and grass surfaces;
VERY LIGHT WEIGHT for quick agile movement and extra jumping height;
FORWARD-HEAVY WEIGHT DISTRIBUTION for greater spiking power;
All of the above features add up to not only an ideal kicking shoe for Sepak Takraw, but also for Indoor Soccer, Futsal, and Footbag (not to mention being excellent for casual wear too) ... and the features add up to providing a shoe that will also HELP REDUCE INJURIES AND HELP PROLONG THE HEALTHY LIFE OF ATHLETES WHO USE THEM.
Lastly, NP KICKERS provide are also ideal Skate shoes (flat surfaces, padding, super grip) and incredibly comfortable and cool-looking as Casual wear! So go ahead, and try out a pair of NP KICKERS.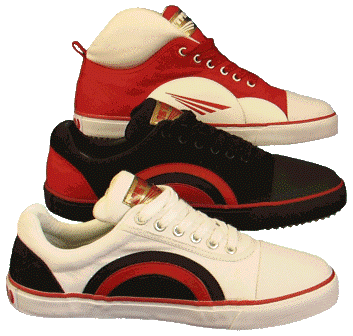 Here's what our customers have said about them:
"I purchased a pair of your low tops. I really like them. I use them for soccer all the time, as well at the field house. I'm not a "runner" I just walk there. I have varicose veins and my legs get terribly sore from running during soccer, but due to the cushioning support, I haven't had any problems since using these shoes. I also love the grip and how they perform on the artificial grass ... I didn't like wearing other soccer shoes that had the turf cleats. My son, who is 15, also likes my shoes. He said, "Mom, those are cool-looking shoes, where did you get them? I want a pair for every day wear!" So, we will be getting him a pair next." Regina, SK, Canada
"I have been playing Footbag for 10 years, Footbag Net for the last few. Recently, I got into Sepak Takraw with my local Footbag club of 10 kickers. When browsing the internet, I stumbled upon your site and I decided to try out the shoes. I bought the low tops, black model with red accents. I love the shoes- have had them for about 4-6 months now. They are super comfortable and cushiony for everyday wear. I do NOT use them exclusively for kicking sports, but I do use the shoes for Sepak Takraw, and I like them for that purpose. They are also visually pleasing to me and to casual observers who think they are quite fashionable. I will definitely be ordering more, but I might try the white and red version next time." Santa Cruz, CA, USA

SAVE 28% ON THESE LOW TOPS Black canvas upper with double layer red & black composite..

SAVE 28% ON THESE LOW TOPS White canvas upper with double layer black & red composite..

SAVE 25% ON THESE HIGH TOPS: Red canvas upper with white composite leather side panels ..
Showing 1 to 3 of 3 (1 Pages)