Sepak Takraw Starter Kit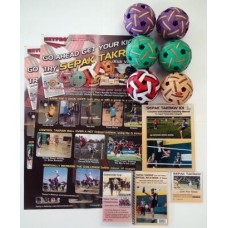 Brand:
NETPRO
Product Code:
06-2000
Availability:
In Stock
This new kit, gives you all the instruction, motivation and variety of balls you need to get a Sepak Takraw program going where you are!
SAVE 15%, STARTER KIT INCLUDES:
- 2 NP200, Beginner Takraw Balls;
- 2 NP300, Intermediate Training Takraw Balls;
- 1 NP300-T, JHS Boy's & Girl's, HS Girl's, and Women's Tournament Takraw Ball … MOST USED BALL, COVERING WIDEST AGE RANGE;
- 1 NP G411, Boy's Tournament Takraw Ball;
- 1 Sepak Takraw 101, 4th Edition - Complete Instructional/Coaching Manual (rules not included);
- 1 Official Sepak Takraw Rule Book, 4th Edition, includes rules for "Regu" (3-on-3), "Doubles", "Beach" and "Hoop" Sepak Takraw games;
- 1 Centennial Cup Video, highlighting the Junior Men's Gold medal match at the Nationals;
- 1 Sepak Takraw - Just For Kicks instructional/promotional DVD;
- 2 19 " X 28 " full color Sepak Takraw Posters.
Write a review
Your Name:
Your Review:
Note: HTML is not translated!
Rating:
Bad
Good
Enter the code in the box below: