NP Portable Sepak Takraw Game Set - AL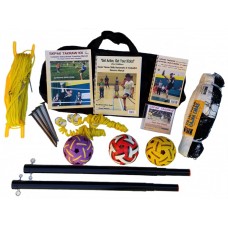 Brand:
NETPRO
Product Code:
08-1000
Availability:
In Stock
SAVE 20%, SEPAK TAKRAW PORTABLE GAMES SET INCLUDES:
- Telescoping, light but strong aluminum telescoping poles that extent with a push of a button, then lock in;
- 2 sets of strong nylon guide ropes to hold poles in place;
- 4 - 8" metal stakes to anchor the guide ropes;
- A one-piece, 20 ft. X 44 ft., pre-measured court of strong nylon rope with 4 corner stakes to anchor into the ground;
- Handy rope winder for the court line;
- 1 durable nylon net, 20 ft X 2 ½ ft, black netting of 2" squares, white edging, easy to attach to badminton poles;
- Strong nylon carrying bag ... it all sets up in 5 minutes!
- Excellent for school play grounds, parks, outdoor recreation areas, summer camps, etc.!
PLUS THE FOLLOWING BALLS AND INSTRUCTIONAL MATERIALS:
- 3 Balls, NP200, NP300-T and NP G411;
- 1 Sepak Takraw 101 Manual, 4th Edition;
- 1 Get Active, Get your Kicks - Sepak Takraw Skills Benchmarks & Evaluation Resource Manual, 2nd Edition;
- 1 Official Sepak Takraw Rule Book, 4th Edition;
- 1 Sepak Takraw - Just For Kicks Instructional DVD.
Write a review
Your Name:
Your Review:
Note: HTML is not translated!
Rating:
Bad
Good
Enter the code in the box below: