DVD: Instructional, Sepak Takraw – Just for Kicks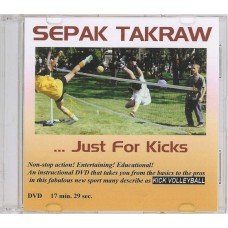 20 min. Instructional DVD, very nicely:
- Introduces the sport;
- Shows cool recreational play by beginners and fantastic rallies from the world championships;
- Shows, step by step, how to achieve all the basic – and some of the advanced – kicks.
- A MUST BUY! The DVD is the teacher ... ideal for any start-up program anywhere!
Write a review
Your Name:
Your Review:
Note: HTML is not translated!
Rating:
Bad
Good
Enter the code in the box below: