DVD: Full Match, Laos vs. Philippines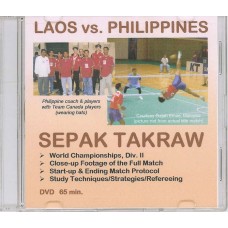 Laos vs. Philippines 1 hour Video Includes:
- Full Match, Laos vs. the Philippines from the King's Cup World Championships, Men's Div. II. As close as you'd want to get directly behind the end of the court (old scoring rules).
- Begins with game start and ending protocol (from the start of another match between Singapore and Thailand).
- A good Video to study the refereeing aspect, game strategy & techniques!
Write a review
Your Name:
Your Review:
Note: HTML is not translated!
Rating:
Bad
Good
Enter the code in the box below: