DVD: Doubles & Hoop Sepak Takraw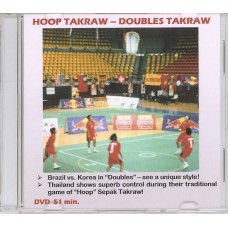 - See Brazil's very soccer style of play as they face Korea in a full match of Doubles Takraw, an event that is growing quickly in popularity world-wide. This two-on-two game shares the same court size and most of the same rules as Sepak Takraw, except that serving is done outside the court with the server tossing the ball up to him/herself and one person cannot serve twice in a row - the pairs must take turns serving throughout the match.
- Thailand shows relaxed control as they kick takraw balls into hoops hung 15 1/2 feet in the air. Hoop Takraw is a traditional game from Thailand that dates back hundreds of years, and it is an excellent game for teaching "setting" skills in Sepak Takraw. The object of the game is basically for a team of 5 players, standing beneath the hoops in a wide circle, to pass the ball around to each other and kick it into the hoops (with inside kicks, outside kicks, knee bumps, headers, shoulder shots and blind kicks) as many times as they can within the given time frame. Each time the ball goes into a hoop, points are awarded. Higher points are awarded for successful hoops with more difficult kicks. You'll be amazed at the control displayed!
Write a review
Your Name:
Your Review:
Note: HTML is not translated!
Rating:
Bad
Good
Enter the code in the box below: