Sepak Takraw Saskatchewan T-shirt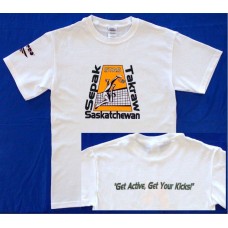 HUGE HOLIDAY SALE! JUST $14.95 WHILE SUPPLIES LAST!
- Gildan, 100% cotton, pre-washed.
- Colours available, WHITE only.
- Available in sizes S, M, L, XL.
- Bright, three-colour graphic of spiker inside the shape of Saskatchewan province on the front of the shirt.
- Back of T-shirt (across shoulders): written in green text, "Get Active, Get Your Kicks!".
STEP ONE:
CHECK HOW MANY OF WHAT SIZES ARE AVAILABLE BELOW
STEP TWO:
SELECT THE AVAILABLE "Size" FROM THE DROP-DOWN LIST UNDER "Available Options" ABOVE.
CURRENT CLEAR-OUT SALE STOCK OF AVAILABLE SIZES:
Adult Small: SOLD OUT
Adult Medium: SOLD OUT
Adult Large: 2
Adult XL: 5
Write a review
Your Name:
Your Review:
Note: HTML is not translated!
Rating:
Bad
Good
Enter the code in the box below: