Heat Action T-Shirt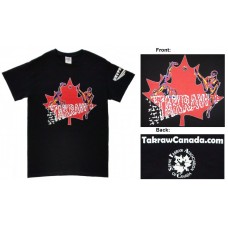 HOLIDAY SALE, JUST $14.95 WHILE SUPPLIES LAST!!
- Gildan, 100% cotton, pre-washed.
- Colours available, BLACK only.
- Available in sizes: S, M, L, XL.
- Body heat type of graphic of spiker and blocker in action over the white "TAKRAW" word-net, backed by a red maple leaf on the front.
- Back of T-shirt (across shoulders): written in white text, "takrawcanada.com" with Takraw Canada seal underneath.
Write a review
Your Name:
Your Review:
Note: HTML is not translated!
Rating:
Bad
Good
Enter the code in the box below: