Video: City Sports, CAN vs.USA Match & King's Cup Highlights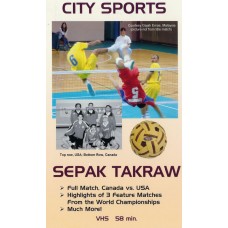 CLEARANCE SALE, PURCHASE FOR ONLY $2.50
City Sports 1 hour Video Includes:
- Full game, Can. vs. USA (scoring prior to 2011/12 rules);
- Highlights from 3 feature matches of the world championships;
- Unique opening ceremony entertainment;
- Excerpts of a new game played in a Malay village called "Straight Spike";
- Footage of 12 & under.
- Most thrilling Video ... it will get you "off the wall" excited!
Write a review
Your Name:
Your Review:
Note: HTML is not translated!
Rating:
Bad
Good
Enter the code in the box below: