Sepak Takraw Jersey - Volleyball Style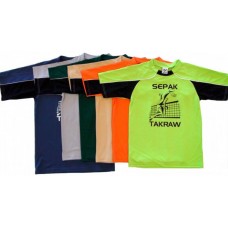 HUGE HOLIDAY SALE! JUST $29.95!! WHEN THEY'RE GONE, THEY'RE GONE!
- High Five, 100% soft polyester, sleeves, crew neck;
- Nice, 1-color Roll Spiker with net graphic on front of jerseys (white on dark jerseys, black on light jerseys);
- Smaller 4" numbers already pressed on back of jerseys;
LIMITED QUANTITIES ON SALE (WAS $49.95, NOW ONLY $29.95), TAKE ADVANTAGE AND ORDER YOUR VERY OWN UNIQUE SEPAK TAKRAW JERSEY FOR A $20 SAVING ... THAT'S A 40% DISCOUNT!
STEP ONE:
CHECK HOW MANY OF WHAT SIZES ARE AVAILABLE IN EACH COLOR BELOW
STEP TWO:
SELECT THE AVAILABLE "Color" AND "Size" FROM THE DROP-DOWN LISTS UNDER "Available Options" ABOVE.
CURRENT CLEAR-OUT SALE STOCK OF AVAILABLE COLORS AND SIZES IN EACH COLOR ARE:
Bright Orange: 1 - Adult Large
Vegas Gold: 1 - Adult Large
Forest Green: 1 - Adult Large
Lime Green: SOLD OUT
Silver: 1 - Youth Large, 2 - Adult Small, 1 - Adult Medium, 1 - Adult Large
Slate Blue: 1 - Adult Medium
Write a review
Your Name:
Your Review:
Note: HTML is not translated!
Rating:
Bad
Good
Enter the code in the box below: